It has been a while, I know. I've been very busy lately. I knew that I had to finish replacing all of the bad parts on my car before October Sixth- the date of the Twisted Sisters run in Kerrville Texas. I had purchased new brake rotors, brake pads, and coilovers but never had the chance to install them. The car started to make a disgusting metal to metal grinding sound which turned out to be a bad throwout bearing in the transmission. I did the labor myself with the intentions to save some money and ended up finding more problems than I wanted to deal with.
The biggest issue at this point is that the dealership or previous owner's mechanic overtorqued everything on the car. So I have a lot of rounded off bolt heads and stripped out threads. Only thee bolts hold the transmission to the engine, two motor mount bolts are completely stripped too, and the starter can only use one bolt. It's a mess.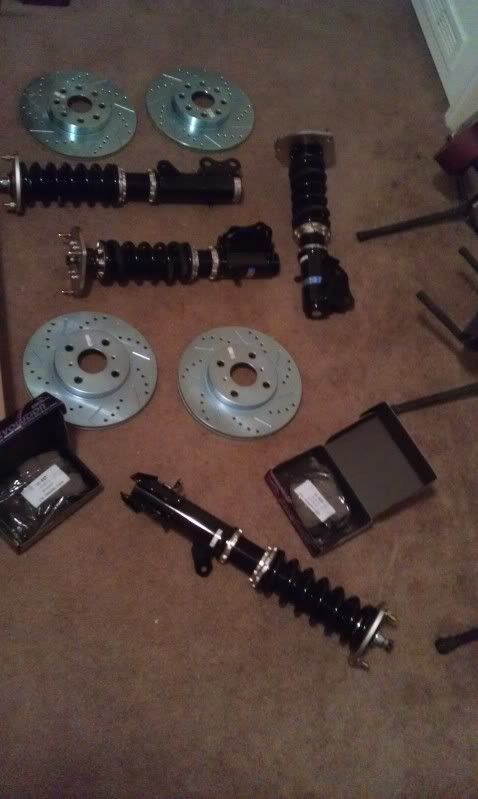 There we have it, BC Racing 5K/7K coilovers with adjustable damping and camber, Power Stop pads and slotted/cross drilled rotors. I did a lot of research and shopping on both sets and found mixed reviews all around. Apparently the best bet for coilovers are Silversprint's custom group buys, but I needed to replace the broken struts before the meet so I opted for the second highest reviewed, BC Racing. At least this way I have a nice warranty to cover the parts too. The brakes are on the medium spectrum. Most people say the OEM rotors are great and don't need an upgrade. Problem is, my rotors were warped, and I can buy upgrades cheaper than OEM, so I went with it. Most of the kits I found were with mixed reviews and only one brake pad is perfect according to the Spyder communities. But I purchased ceramic pads anyway, because full race is really not necessary since my car doesn't see a race track.
Since the throwout bearing was bad, I put the car on jack stands and did all three jobs at the same time. The coilovers are a very simple and easy installation, and you can find tutorials all over the internet for that. The brakes were even easier, all you need to know is that a repair manual helps a lot and a special rear caliper piston tool is needed.
While changing the struts out I did notice a few things. The rear driver side stabalizer bar end link was bent pretty bad. Not sure how you bend stuff like that, but I straightened it for the time being. Over the winter I'll try to purchase some nice stainless/teflon endlinks from TwosRus as they appear to be a major improvement over OEM and at half the price. Plus they never need grease. One of mine is leaking grease already. So is the driver rear control arm that adjusts Toe in/out. Several bushings are completely blown out as well, but I can't find a bushing kit anywhere.
Bent end link: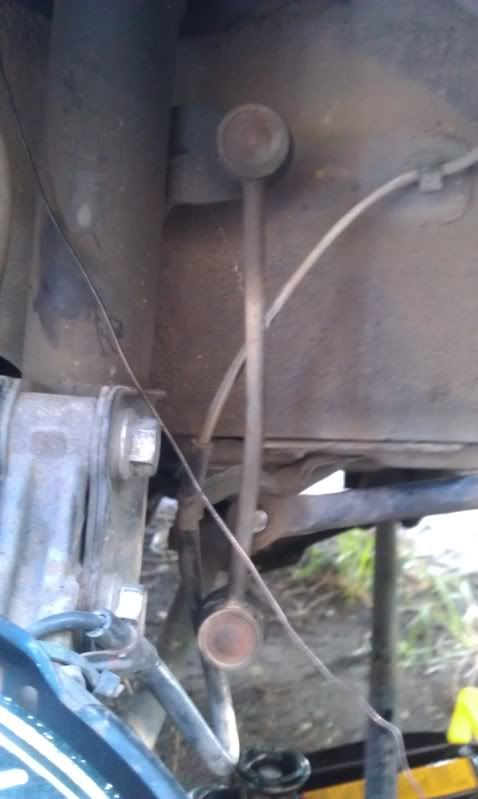 While I had most of the suspension in pieces, I took the time to clean everything and lubricate the bushings that needed it. I think it turned out pretty nice, too bad no one will ever see it.
Finished product: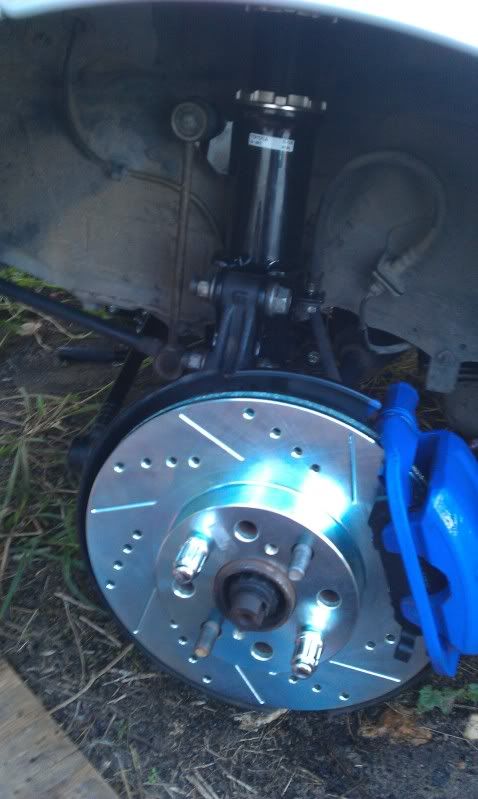 It's a scary thing to drop a transmission out of your car if you've never performed that type of work before. But armed with my BGB repair manual, I started tearing stuff apart. That's when I found all of those bad bolts and torn up threads. Going to need a serious overhaul to make things right, I can probably take the car to my shop and pull the transmission again and tap the holes for bigger bolts then replace everything safely. I spent the entire weekend worried that the transmission would just fall out of the bottom of the car.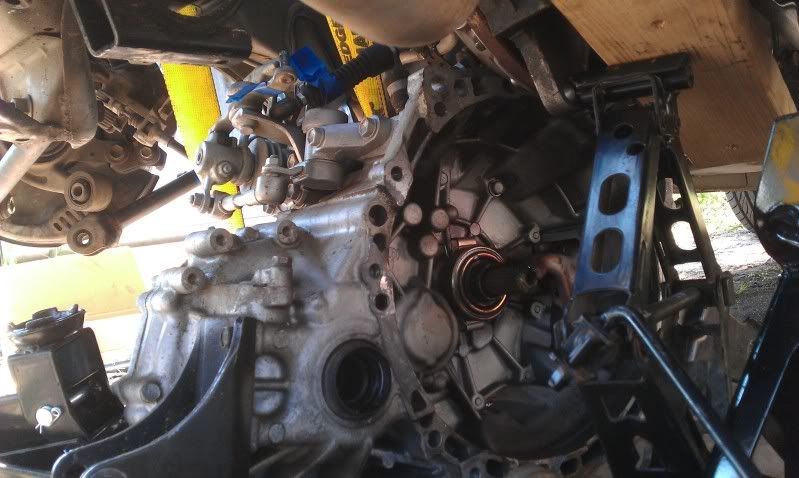 The throwout bearing wasn't seized up, but it is definitely hard to move. When you change the clutch, it's important to replace that bearing, everyone knows that. Too bad my dealership is shady and cheap. But at least I could see that the clutch was in fact brand new. I made sure to turn the input shaft of the transmission to make sure it spun freely and I couldn't hear the bearings so I didn't have to tear it apart. I'm glad someone mentioned that before I put it back together.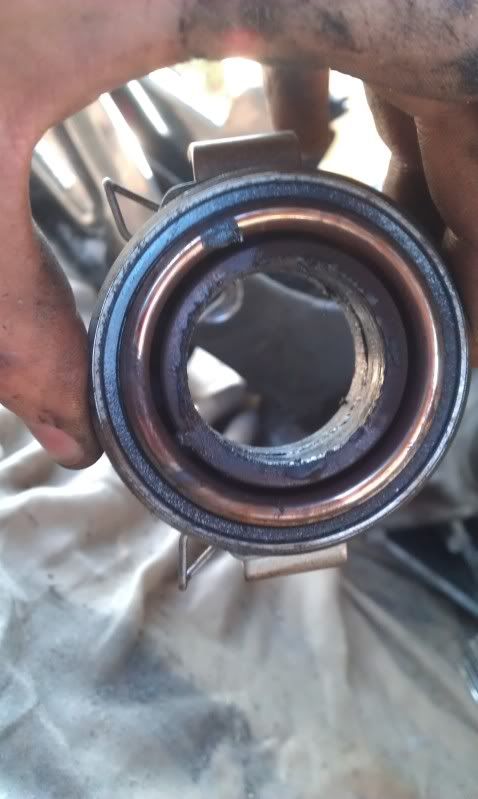 The guy who sold me the BGB also had a TRD rear top brace for sale at one third of it's value so I jumped on the deal.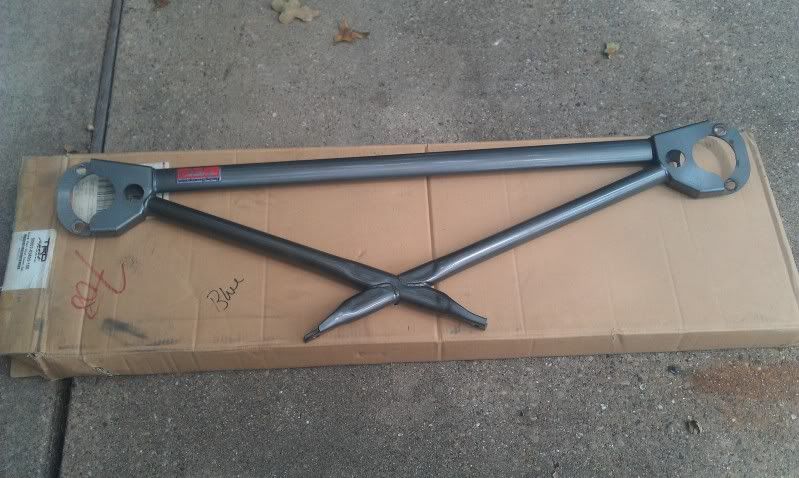 Finally everything was put back together and I took the car out for a test run. The alignment was bad but I was astonished by the difference. The coilovers didn't remove all of the body roll, which is a good thing, but made it all so much more liveable and useable. The springs are stiff yes, but not so bad that it breaks my back on bumps. The breaks are what blew me away though. I could let go of the steering wheel, slam onto the brake pedal with both feet as hard as possible, and the car would stop super fast in a straight line, no ABS crunch, no arguements, just stops faster than anything I've ever driven. Unfortunately I love to test those breaks and fear replacing $75 sets of brake pads.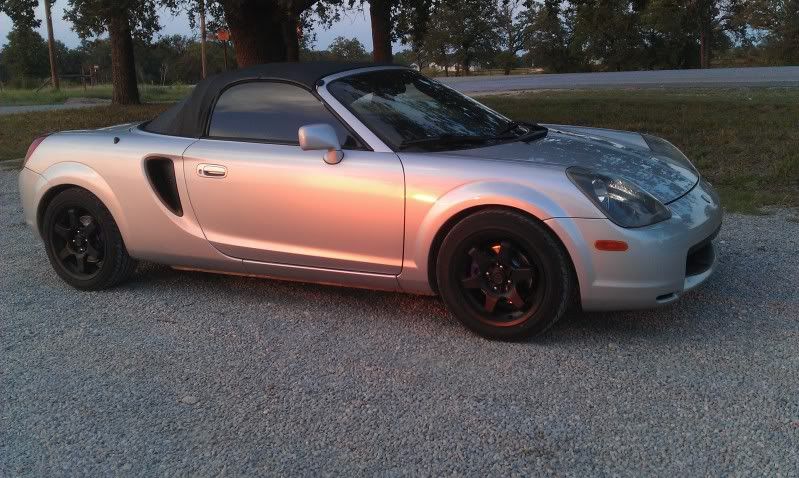 That's the car after everything was finished. I barely finished the work a day before the meet in Kerrville. I did my own alignment because I need to replace an axle and didn't see the point in spending $80 on an alignment only to have to do it again in a couple of weeks.
The total cost is significant but not bad. Coilovers were $995 (tax free, thanks to the internet), brakes were $234, and the TRD brace was $100. The bearing only cost me $40 OEM and I spent about $30 on random bolts from Toyota.
Conclusion: Finally it feels like a new car again. Best purchases I've made so far.
Time Spent: Don't want to admit to it, but about fifteen hours total. Special tools should have been purchased.
Money Spent: $1,400
Work Level Performed: Intermediate, exhasutingly so.